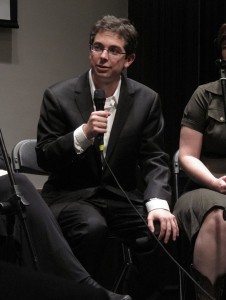 Pianist Michael Brofman has earned a reputation as one of the finest vocal accompanists of his generation. He has performed hundreds of songs, from Schubert's earliest lieder to premieres of new songs by Tom Cipullo, Herschel Garfein, Lowell Liebermann, and Glen Roven. He was hailed by the New York Times as an "excellent pianist" and by examiner.com as "a young pianist with an ingenious and sensitive feel for voicing, phrasing, structure, and momentum."
Feast of Music recently praised his "elegant and refined playing… exhibiting excellent touch and clean technique."
Highlights from the 2016-2017 season include an all-British song recital with tenor Dominic Armstrong at the Freeport Memorial Library, Arnold Schoenberg's Das Buch der hängenden Gärten Op. 15 with soprano Sarah Brailey at the Brooklyn Historical Society, and a collaboration with Jake Heggie performing his works at National Sawdust with tenor Zach Finkelstein. Mr. Brofman will also perform songs by Zemlinsky and Pfitzner with baritone Tobias Greenhalgh and Kristina Bachrach, take part in a rare complete performance of Hanns Eisler's Hollywood Songbook, and give the world premiere of a new work by Tom Cipullo, written in honor of his wedding to the violinist Stani Dimitrova.
Last season Mr. Brofman performed George Butterworth's A Shropshire Lad and Gerald Finzi's A Young Man's Exhortation in Brooklyn and Kansas City, MO with tenor Dominic Armstrong, the American premiere of Harrison Birtwistle's Songs of Another Earth, a performance of the songs of Ned Rorem in honor of his 92nd birthday at Bargemusic, and world premiere performances of works by James Kallembach, Glen Roven, and Andrew Staniland.
Highlights from past seasons included all- Brahms programs in Boston, Philadelphia, New York and South Bend, Indiana; performances of Benjamin Britten's Seven Sonnets of Michelangelo and Cabaret Songs at the Brooklyn Historical Society as part of a centennial celebration; Dichterliebe with baritone Michael Kelly at Bargemusic, a four city tour to promote his first CD New Voices, and yearly residencies at the Sembrich and the Lake George Music Festival in upstate New York.
Mr. Brofman has championed new works and has fostered relationships with many living composers both established and up-and-coming, including Tom Cipullo, Michael Djupstrom, Herschel Garfein, Daron Hagen, Jake Heggie, Marie Incontrera, James Kallembach, Libby Larsen, Lowell Liebermann, David Ludwig, James Mattheson, Russell Platt, Michael Rose, Glen Roven, Andrew Staniland, and Scott Wheeler.
Mr. Brofman is the founder and artistic director of the Brooklyn Art Song Society, an organization dedicated to the vast repertoire of poetry set to music now in its seventh season. His first CD New Voices on Roven Records includes four world-premiere recordings and was number one on Amazon's new releases for Opera/Vocal and debuted in the top 10 of the Traditional Classical Billboard Chart. In this capacity Mr. Brofman has curated and performed in surveys of art song repertoire that have included the complete songs of Henri Duparc and Charles Ives, lieder from the last year of Schubert's life, a survey of all the members of Les Six and much more.
An eloquent and passionate advocate for art song, Mr. Brofman has been interviewed by Russell Platt for Opera News, for Caught In the Act on Brooklyn Public Television, on the WQXR radio show Soundcheck and for the Linked Music blog. He also hosts his own internet show "Song and Wine." His writings on music have been published in GPR Records, Sparks and Wiry Cries, and the Linked Music Blog. He is also earning a reputation as gifted educator and has presented masterclasses at the University of Chicago, the University of Notre Dame and the University of Southern Maine. Mr. Brofman holds a bachelor of Music from Northwestern University where he studied with James Giles. There he was awarded the Frida A. Pick Award for Piano and featured on Chicago's classical radio station. Mr. Brofman spent several summers at the Aspen Music Festival as a student of Rita Sloan and continues his studies with Robert Durso of the Golandsky Institute. He teaches piano and chamber music at the Brooklyn Conservatory. For more information visit www.brooklynartsongsociety.org. or www.mikebrofman.com.